Product Description
Interactive Whiteboard touch tv, touch panel, Touch Screen Whiteboard, LED panel, interactive display. 86 inch Interactive LED LCD touch screen monitor from China manufacturer with best price Hengstar Infrared /PCPA touch All in One is with TV, computer, touch screen kit and audio inside. Interactive Whiteboard The thickness of whole machine is only 10.7cm. Interactive Whiteboard the advantage of our all in one pc monitor is touch screen kit on the front panel and drawer-style PC will be maintained easily. Based on Windows 7 and windows 8 system, Touch Screen Whiteboard it can switch single touch and multi touch freely, No matter if you are High-end factory, no matter if you are normal school, no matter if you are government or radio station, all can use this machine. Touch Screen Whiteboard It is also used for family users; there are many kinds of installatio methods interactive Whiteboard , it looks nice with wall-mounted method; it's moveable with mobile stand Interactive Whiteboard.
Interactive Whiteboard pic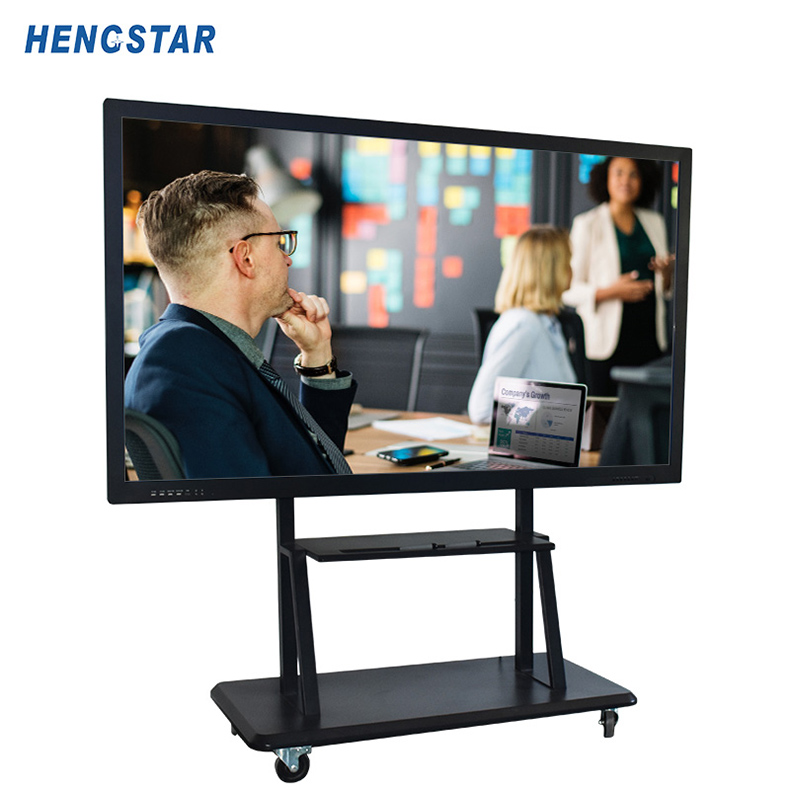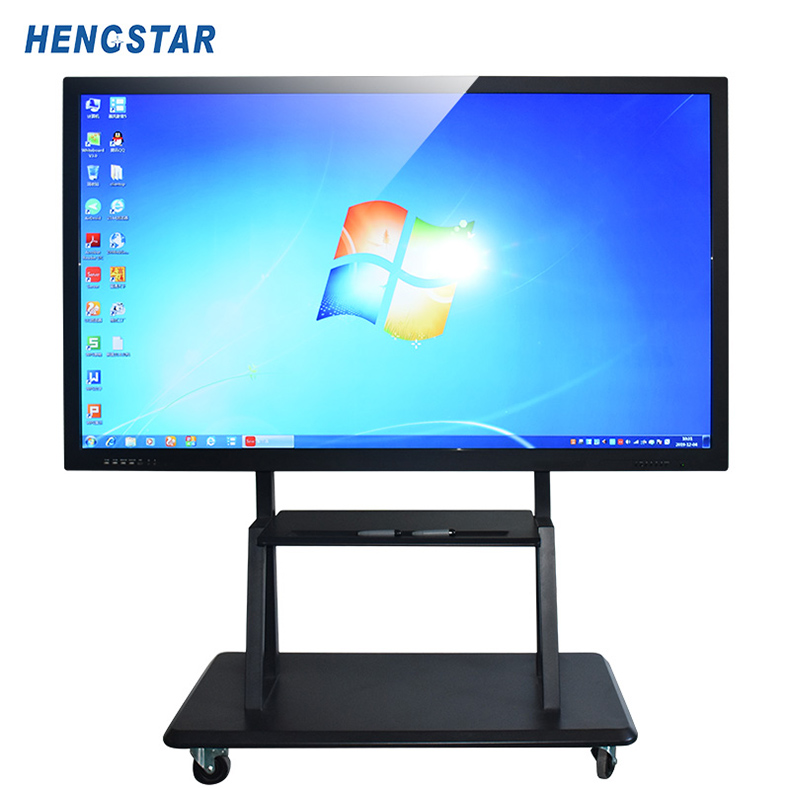 Touch Screen Whiteboard Features:
1. Interactive Whiteboard Finger touch.
2. Multi touch
3. HDMI -High-Definition Multimedia Interface keep the original high-resolution voice and image signals transmission
4. Flexible Media Content-provide easy access for quick media changes and service
5. Interactive Whiteboard Drawer-type PC box
6. Interactive Whiteboard Different color for choose
7. Interactive Whiteboard Wireless(Optional)
Interactive Whiteboard Product SPEC
LCD panel Size/Aspect ratio 86''/ 16:10
Pixel numbers 3840(H)*2160(V)
Brightness 450 cd/m2
Touch Screen Whiteboard Contrast Ratio 1200:1
Viewing Angle 178° (H)/178° (V)
Interactive Whiteboard Colors 16.7 M
Touch Parameters
Touch Active Area 1892*1066
Touch Technology Infrared touch technology
Touch mode 10 points touch
Resolution 32767*32767
Response time 1)First dot (Click)8ms,continuosly(writing)3ms;
2)Multi-point click: first dot (Click)8ms, continuosly(writing)8ms;
3)Mouse click: first dot (Click)8ms, continuosly(writing)8ms;
Cursor Speed Up to 300dot/s multipoint, mouse click :125dot/s
Operating Life ≥60,000,000times to click
Power USB Power Supply(4.6~5V DC)
Power Consumption ≤1w
Operation System Win7/Win8,Android,Mac, Linux
Calibration HD devices standard, accord with win7 multi-touch protocol, no need special software to calibrate, just use tablet pc setting to finish the calibration
Anti-light decay function Anti-light decay circuits to prevent the performance degradation
Caused by long working hours
LED Test software Supply touch screen LED test software to test the function of each couple of the LED Lights
Touch Screen Whiteboard Functions
Anti-light interference function Can work properly in direct sunlight condition
TV Parameters TV Standard NTSC-M/N,PAL-BG/DK/I/H,SECAM L/L
Multimedia Formats MPEG1/MPEG2/,MPEG4,H64,RM,RMVB,MOV,MJPEG
USB2.0 Multimedia Playback Video/Audio/Picture
USB System Upgrading Online Support USB Online Upgrading Function
Resolution Max.1080P
HDMI V1.4 720P/1080P
Scanning Format Support 1080i video cnsscross DAS(Dynamic Adaptive Scan)
Sound Control Automatic Sound Standard detection support for balance adjustment and surround
Touch Screen Whiteboard Sound Output 2x10W
FAQ
A: Yes, we are a factory, we have our own production line.
2. Q: what's your products' quality control?
A: Our tenet is "Quality first, Prestige first". We are pay more attention to the beginning till the very end of the production. Our products have passed the CE & ROHS & ISO & FCC etc. certification.
3. Q: What's your after-sale service?
A: We can offer 100% guarantee on our product. If any problems, you will get our reply within 24 hours.
A: Generally, our MOQ is 1 pcs. But the greater the quantities , the bigger the discount .
5. Q: Could you offer the OEM service?
A: Yes, we can provide the OEM service if our customer requested.
6. Q: How about the delivery?
A: The delivery would be with in 3-15 days according to the order quantity and size of the items.
7.Q:How does IR interactive whiteboard SKD work?