Digital Signage Monitor A new type of rotating vertical advertising machine includes a display screen and an electrical box. nec digital signage. Outdoor Digital Signage The display screen is installed on a rear support plate, and a flange is provided at a connection position between the display screen and the rear support plate. A motor is provided, an LED neon light is provided on the rear support plate, and a connection port is provided below the side of the rear support plate. The electrical box is installed on the rear support plate near the lower portion of the display screen, and the interior of the electrical box A battery is provided, the display screen, the motor, and the LED neon light are all electrically connected to the battery. A base is provided at the bottom of the rear support plate, and a gravity sensor is provided inside the display screen. Outdoor Digital Signage

External Structure

Metal case structure/Aluminium(optional)

Support Formats

AVI, MPEG1, MPEG2, MPEG4, JPG, MP3

Win10 System

Intel Core I3/I5/I7 CPU,8G Ram, 64G/128G SSD

LCD Panel Specs

Panel brand

LG / AUO

Display area

49" 1209(W)*680(H)mm

Resolution

1920x1080 1080P @60HZ

Colours

16.7M

Brightness

350nits

Contrast ratio

1400:1

Response time

8ms

Signal Format

NTSC、PAL、480I、576I、720I、720P、1080I、1080P

View Angle

178°(H)/178°(V)

Aspect Ratio

16:9

Ram

4G/8G

PC Spec.

SSD

64G/128G/256G

OS

Win7/Win10

Display Card

Integrated Graphics

Audio Output

Built-in speaker: 10Wx2

I/O Interface

HDMI×1,VGA×1,RJ45×1,USB×4,LINE-OUT×1,MIC-IN×1

Touch Screen

Touch Screen

Capacitor G+G Touch, USB Interface

Touch Resolution

4096(W)×4096(D)

Response time

5ms

Glass

4mm tempered glass, Mohs 7 class riot control

Language Options

Multiple languages

Scroll Subtitles(optional)

Show instant information

Accessories

Instruction book x1, Remote controlx1, Power Cablex1

WiFi Antenna Rod*1

Power Supply

Input: AC110V-240V 50 /60 HZ, 4A

Power: Max. ≦280W

Standby Power: <1W

Working Temperature

0°C-40°C

Working Humidity

15-75%

Dimension

49"

Dimension H2049.5*W718*D

119.4

mm,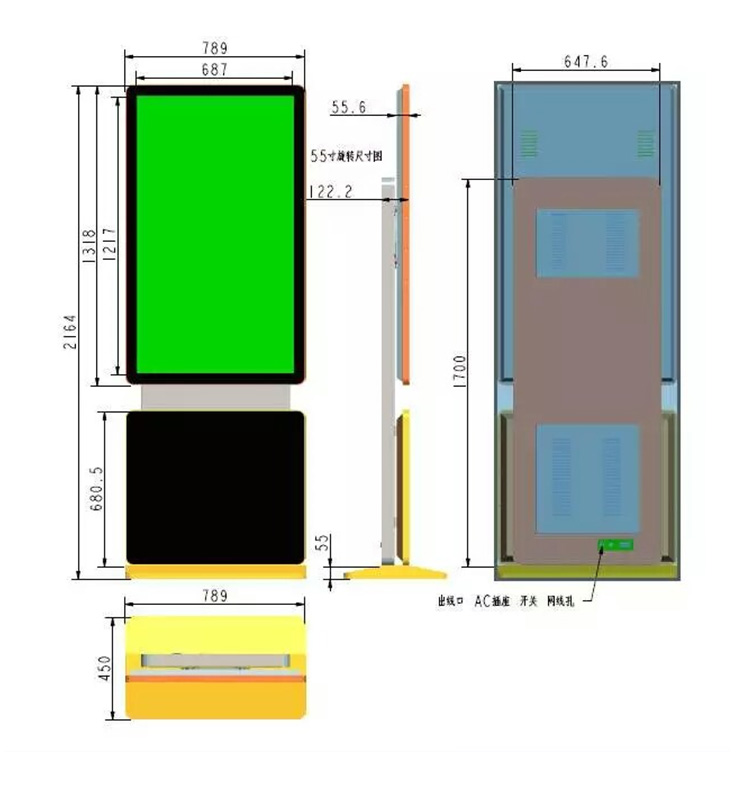 Application
Hengstar Interactive advertising player series is widely used in Hotel,
Restaurant, Bank, Shopping center, Airport, and other fields to
display Video or Pictures for advertisement purpose.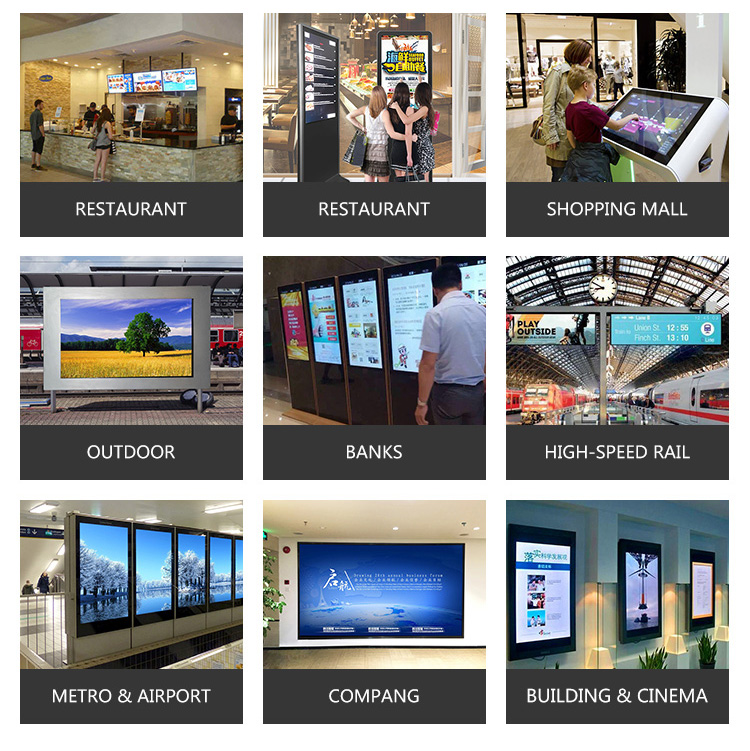 Digital Signage Screen,Signage Monitor,Digital Signage Monitor,Broadcast Monitor