Product Description
Several points of field survey of Touch Screen Monitor large screen project
a. Determine the position of the Touch Screen Monitor screen and control room: the survey site must first determine the installation position of the lcd monitor screen. The main point of confirmation is to determine the site on a wall, under a beam, between columns, etc. Reflected on the drawing is the confirmation screen on the plan
The left and right column beams are marked, and the elevation of the bottom of the screen body is confirmed on the elevation view. The location of the control room is to confirm where the control room is. lcd monitor vs led.
b. Determine the force point of the installation of the LED screen on the site: Determine the bearing point (face) of the screen through on-site observation, inquiries with relevant personnel of Party A, and consulting the relevant drawings of the civil construction of the building.
c. Determine the routing route from the screen to the control room: through field observation, consult the relevant drawings of the building's strong and weak electrical pipelines, determine the direction and length of the strong and weak electrical cables, and whether or not cable troughs or conduits are required.

d. Determine the installation of supporting equipment: mainly the installation position of the speaker. led vs lcd monitor.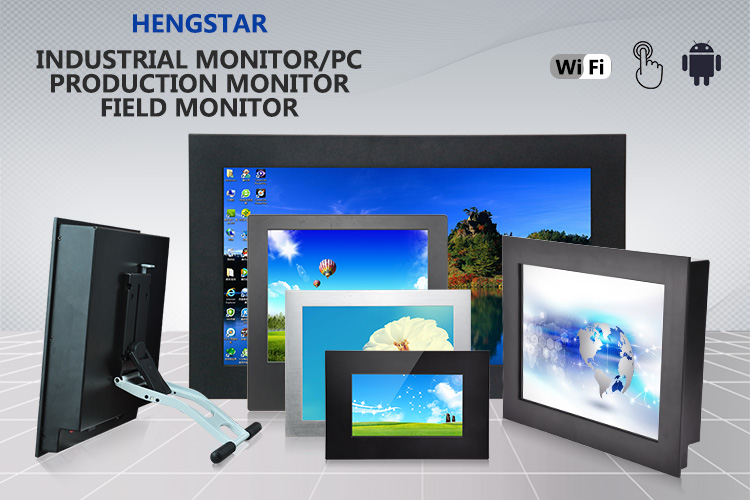 lcd monitor computer

Product specification

Wall Mount VESA Monitor Wall Mount VESA Monitor Wall Mount VESA Monitor Wall Mount VESA Monitor Wall Mount VESA Monitor

Panel

spec

Size

32"

Aspect Ratio

16:10

Pixel Pitch

0.2505(H)mm x 0.2505(V)mm

Resolution

1920 x 1080(WQXGA)

View angle

L / R: 89/89 , U / D:89/89

Luminance

280 nits

Contrast ratio

1000(MIN.)

Response time

TR6ms TF6ms

Colors

8Bits-true 16.7M colors

Video format

Support PAL/NTSC/ASCEM etc.

Port

VGA,CVBS

Horizontal Frequency

67.5KHZ

Vertical Frequency

60HZ

Display SYSTEM

Main Chip (STDP9320 )

300MHz Frequency






10ns

48% to 52%

2.5W low TDP

Memory

256MB

Signal I/O

1 *HDMI,1*DVI-I , 1 *VGA,1*USB

Audio

1* Audio Output(Optional)

Power requirement

+24V +12V,+5V,+5V VSB, PS-ON

Rear Panel I/O

1*VGA Waterproof Connector

2*DVI-I Waterproof Connector




1*HDMI NA HDMI-W Connector-19Pin

1*USB NA USB-W Connector-4Pin




1*AC D38999 Connector-5Pin

Video SYSTEM

System Supported

PAL/SECAM/NTSC

Signal system

B/G,D/K,I,L/L,M/N

Stereo

SRS TruSurround XT

Power: 10W*2 (Optional)

QUALITY APPROVAL

Fire-resistance

UL-94HB

Water-resistance

NeMa4

Chemical-resistance

Active area of Touch is resistant for acetone(Optional), toluene, butanone, acetylacetone, methanol, acetic acid, gas, coal oil, and Vinegar.

Certificate

RoHS 、FCC(Part 15)、CE(EN55022 and EN55024)Optional

Support MIL-STD-810G ( check below for Detail)
Full HD Screen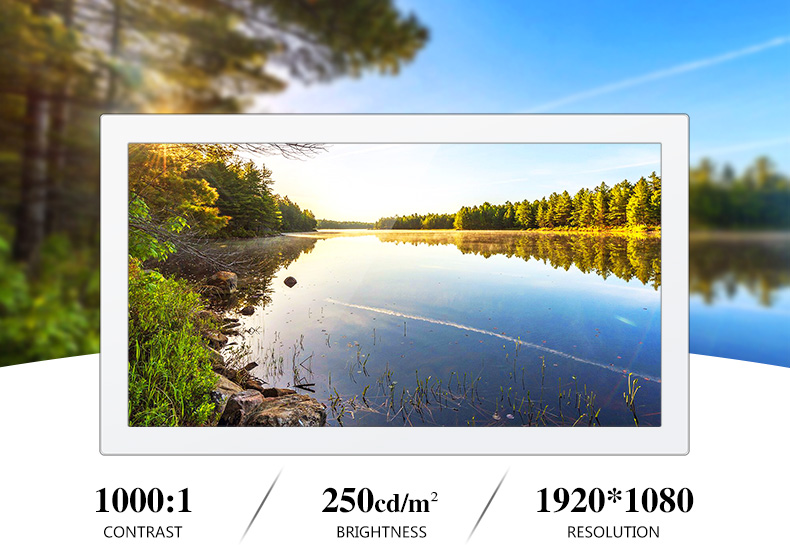 Product details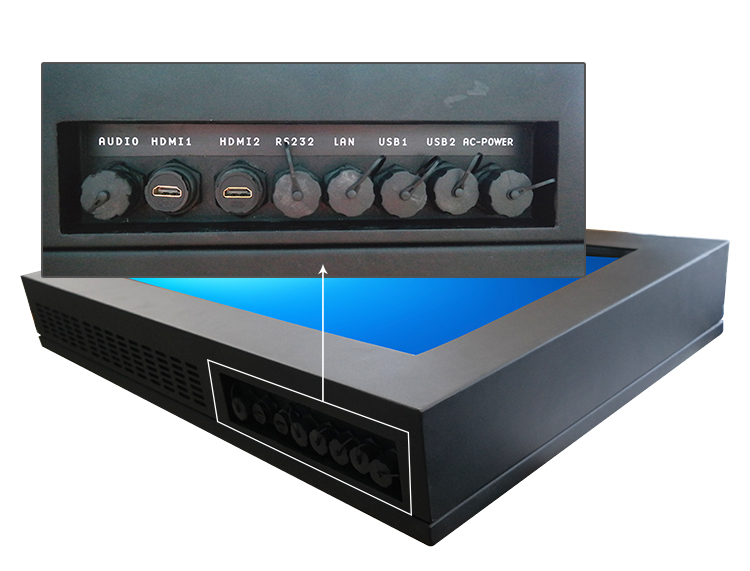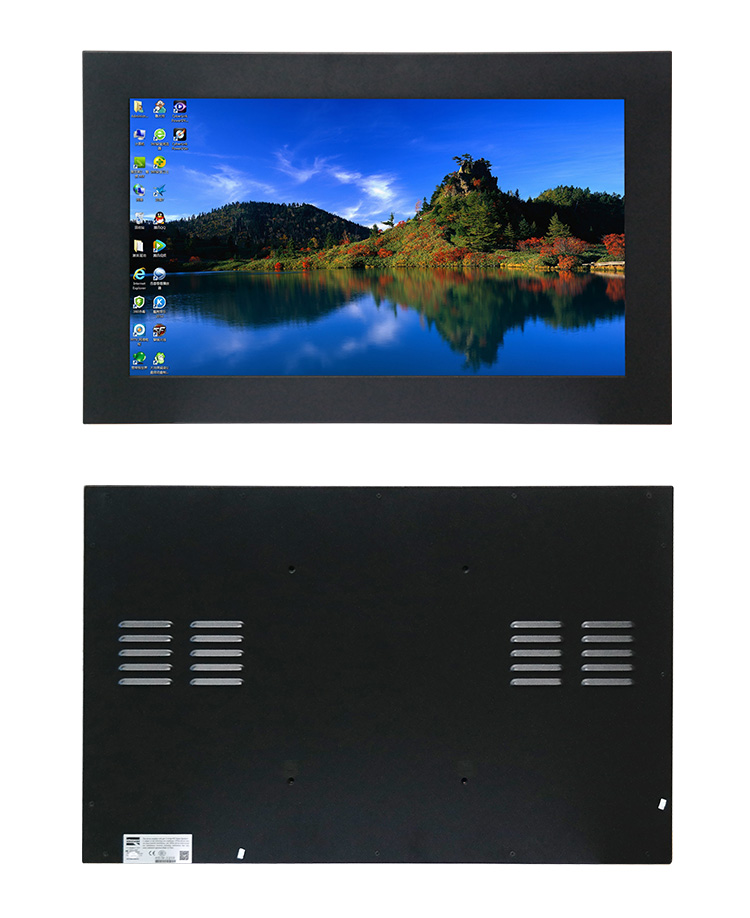 Application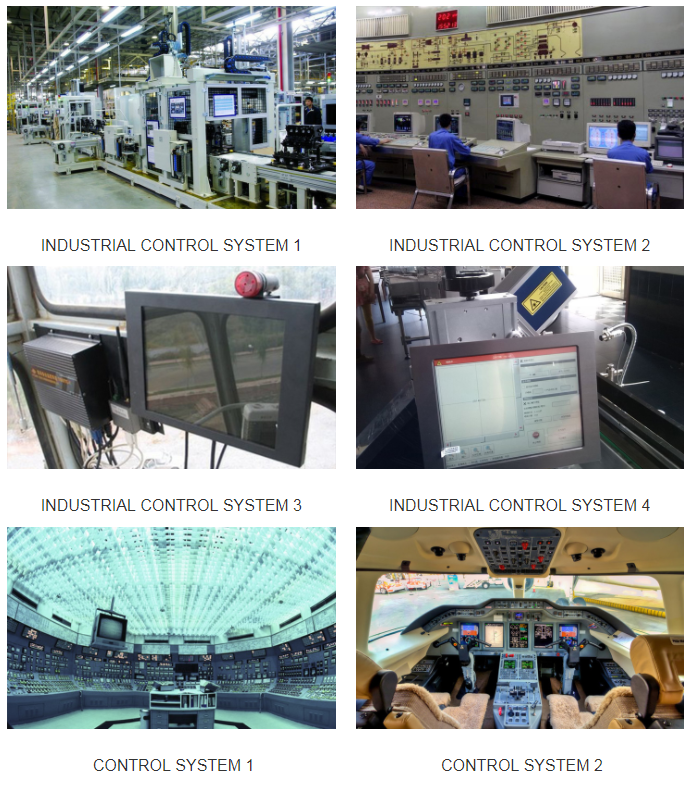 Wall Mount Touch Screen Monitor,Wall Mount Touch Screen Monitor,Wall Mount Vesa Monitor,Wall Mounted Touch Screen Display