Product Description
Hengstar reinforced liquid crystal display and military grade reinforced liquid crystal display always adhere to high quality, Hengstar industrial touch display always adhere to customer priority. Paying great attention to the accumulation of serial LCD industrial core technology, the industrial all-in-one computer already has its own intellectual property rights. industrial monitors, tft color lcd monitor, computer lcd monitor, lcd monitor, Intelligent display of industrial grade: our intelligent display includes AR series, AD series, AH series, AE series. The AD series is an upgraded product of the AR series. AD, AR, AH provide customers with RS232 serial port, RS485 serial port, CAN port, USB port, etc .; touch screen provides RS232 interface, USB port (AH series is mainly used in large size and large resolution displays). Touch Screen Monitor, led vs lcd monitor for gaming. Industrial touch screen Monitor. Touch Screen Mount,Panel Mount Touch Screen Monitor,Panel Mount Touch Screen,Panel Mount Monitor,Touch Screen Mount,Panel Mount Touch Screen Monitor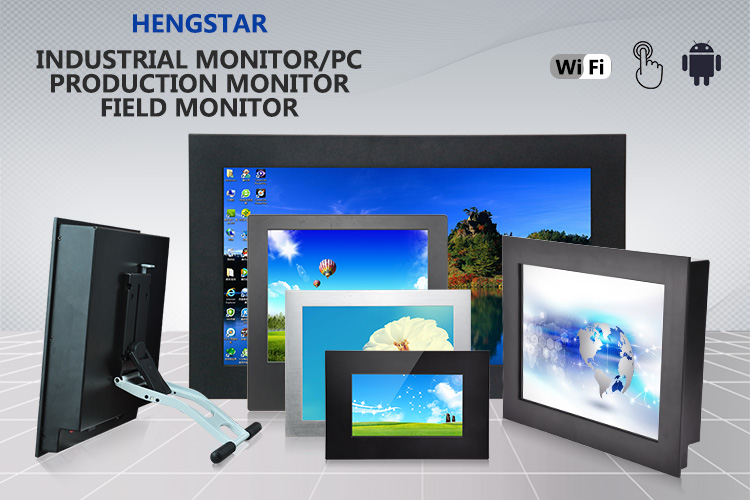 32 Inch Multifunctional Efficient Industrial Rugged Monitor
Product specification

Panel

spec

Size

32''

Aspect Ratio

16:10

Pixel Pitch

0.2505(H)mm x 0.2505(V)mm

Resolution

1920 x 1080(WQXGA)

View angle

L / R: 89/89 , U / D:89/89

Luminance

350 nits

Contrast ratio

1000(MIN.)

Response time

TR6ms TF6ms

Colors

10Bit 1,073,741,824colors

Video format

Support PAL/NTSC/ASCEM etc.

Port

VGA,CVBS

Horizontal Frequency

67.5KHZ

Vertical Frequency

60HZ

Display SYSTEM

Main Chip (STDP9320 )

300MHz Frequency

10ns

48% to 52%

2.5W low TDP

Memory

256MB

Signal I/O

1 *HDMI,1*DVI-I , 1 *VGA,1*USB

Audio

1* Audio Output(Optional)

Power requirement

+24V +12V,+5V,+5V VSB, PS-ON

Rear Panel I/O

1*VGA Waterproof Connector

2*DVI-I Waterproof Connector

1*HDMI NA HDMI-W Connector-19Pin
1*USB NA USB-W Connector-4Pin

1*AC D38999 Connector-5Pin

Video SYSTEM

System Supported

PAL/SECAM/NTSC

Signal system

B/G,D/K,I,L/L,M/N

Stereo

SRS TruSurround XT

Power: 10W*2 (Optional)

QUALITY APPROVAL

Fire-resistance

UL-94HB

Water-resistance

NeMa4

Chemical-resistance

Active area of Touch is resistant for acetone(Optional), toluene, butanone, acetylacetone, methanol, acetic acid, gas, coal oil, and Vinegar.

Certificate

RoHS 、FCC(Part 15)、CE(EN55022 and EN55024)Optional

Support MIL-STD-810G ( check below for Detail)
※KeyFeatures:
●
This designed HSIM-3009 Rugged rack-mounted for industrial purpose.
●Solid structure, rugged 15mm Aluminum Frame Rugged rack-mounted for industrial purpose.


●Easily mounted the touch screen(optional), tempered glass display surface box, avoid dust,
waterproof, avoid vibration.


●Suitable for large electromagnetic interference and low power consumption of industrial one-site human-machine
interface, process control and other occasions.


●VGA input, the cable longest up to 5M.


●Can use air interface, hard steel materials, the panels look elegant and generous.


●Low-E characteristics of LCD screen is not flashing, compared to the traditional CRT, can reduce the dim age to your
eyes.


Specification:


●Panel Color: Black( can be optional)


●Installation: Wall-Mounted


●Resolution: WQXGA 1920x1080


●Optical transmission rate: 72%
Mechanical Drawing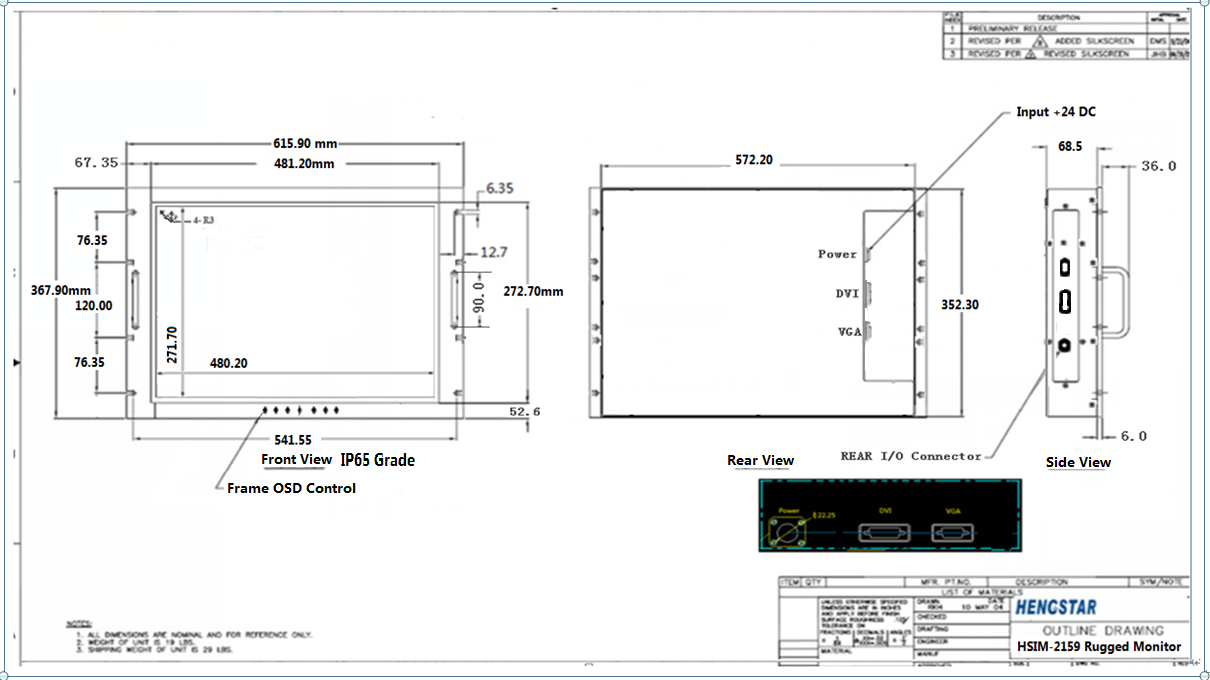 Application:
Widely used in finance equipment, communications equipment, industrial automation equipment,
medical equipment, aviation equipment, manufacturing and electricity, metro, national defense and
other areas and also used for communication and control terminals, is a highly cost –effective
industral-grade LCD display.